Cursor Request;
MUST BE FOLLOWING ME. LIKE MY FANPAGE TOO. IT'S JUST ON THE UPPER LEFT CORNER. NO UNFOLLOWING WHILE YOU'RE USING OR I'LL DELETE YOUR CURSOR.
PUT ME IN YOUR CREDITS OR IN YOUR FAQS!!
SEND THE REQUESTS ON MY SUBMIT BOX.
PASTE THE CODES AFTER THE HEAD TAG
Note:
If you don't follow my instructions, i will ignore your request so ask first if you have any questions about it. Cursor request is always open but please bear with me if your cursors will be delayed because we don't have a per month internet connection.
I'm only using prepaid broadband so please, PLEASE be patient.
Please do follow these form: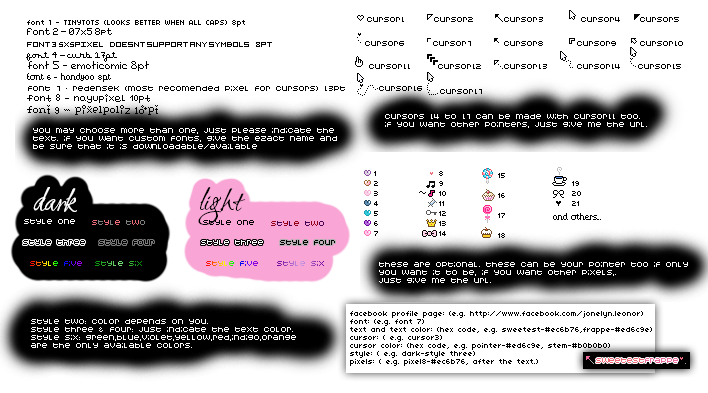 Choose colors

or
here
If you have any question regarding my form please state it in my ask box.
Finished cursors
These can be used by anyone but you must credit me.


Use your own cursor, if you want one just request please.










IF YOU HAVE ANY PROBLEM WITH MY CURSORS, JUST ASK ABOUT IT.
I'm currently using: